Soay Sheep Society Merchandise
Soay Sheep Society Mugs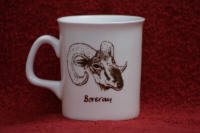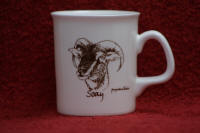 Mugs are now available to buy by mail order from the Society.
The mugs are made of bone china and are available in 3 designs featuring drawings of a Soay head and / or Boreray head.
* Soay design sold out - only Boreray design available *
Mugs are priced at £5 each plus £3.95 postage and packing.
Please note that postage and packing charges relate to 1 mug only - for larger orders please enquire for postage costs.
To order your Soay Sheep Society mugs contact the Society's Merchandise Officer:
Steve Carpenter - [email protected]