New DVD : Soay - Sheep on the Island at the Edge of the World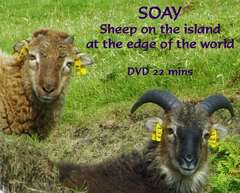 A brand new DVD is now available, directed and written by winner of many international programme awards, Michael Darlow.
Join Michael on a 22 minute exploration of the Soay in their "wild" environment, on the remote, stunningly beautiful North Atlantic island of St Kilda.
To purchase the DVD, please send £10.50 (incl. VAT, package and postage to anywhere in the UK) to:
"Boa Ms Limited" at Leigh Grove Farmhouse, Leigh Grove, Bradford on Avon, Wiltshire, BA15 2RF. For enquiries, tel. 01225 862705, or e-mail [email protected], website www.boams.co.uk. Non-UK? Please make contact, we are happy to ship. USA? Stocks are held in America, please e-mail [email protected] for payment details.
As a special offer, anyone ordering both a copy of Sam's Soay Sheep Book (see separate News Item) and the DVD at the same time is entitled to a discount, £15 inclusive, against a total of £16.50 for the two items if bought separately.
DVD Review Priscilla Weaver (US attorney and Soay keeper) describes the DVD as "absolutely breathtaking", saying that "it gives all of us a much better understanding of where our beloved Soay come from, why they are so hardy, and why they are such a genetic treasure ... I urge you to go ahead and order a copy"